Ready to kickstart your personal development?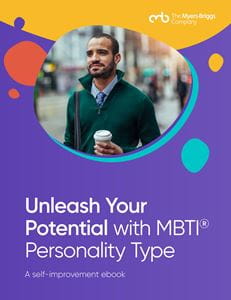 Life is filled with ups and downs, and it's in these hills and valleys that people often look toward self-improvement and a greater sense of purpose. But how do you know where to start?
Download Unleash Your Potential with MBTI®️ Personality Type: A Self-improvement Ebook to get 13 topics that will help you become the best version of yourself.
Each micro lesson in this ebook focuses on different aspects of self-improvement, including stress management, communication skills, well-being, personal development, and more. And you can do it all at your own pace.
While you don't have to take the MBTI assessment to use this ebook, understanding your MBTI type can supercharge your progress and self-awareness with personality-driven insights to seriously actionable personal development.
Ready to unlock your potential? Fill out the form below to download the ebook.